One thing we often hear at tradeshows from passers-by is "oh great idea, a shielded sprayer". Certainly the shielding is important, it helps protect the spray droplets from wind and tells the user exactly where they are spraying. Therefore the sprayhood allows the operator to confidently spray closer to their sensitive crop without worry about damage.
However, this is only one of the features of the Mankar Ultra-Low Volume system. The main way that the Mankar system reduces drift is due to the pressureless delivery system; the herbicide is dripped into the spinning-disc atomizer which then cuts the liquid into small evenly-sized droplets. Using this technology ensures that no vapors are created, which is a major cause of pesticide drift. Evenly-sized, evenly-spaced small droplets ensures excellent coverage with less liquid.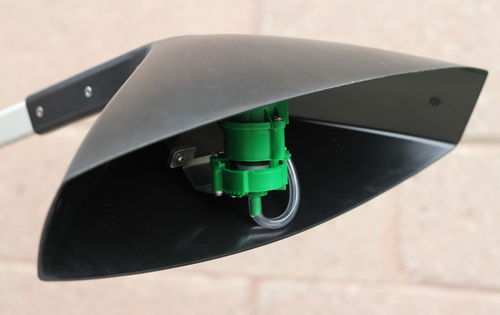 So yes, the Mankar ULV system is applying herbicide under a shield, but the patented atomizer under the hood is really what offers the greatest benefit of the system. Less liquid, better coverage, and no drift.